What does an old farmer know about a bigger business harvest for you?
This blog comes as a challenge to you to step up, now.
It's hinting at spring in the northern hemisphere. It's the perfect time to apply some old farmer wisdom to your life, today.
Every spring without fail, my dad marveled at the same thing.
So did my grandpa. Both of them were farmers, so this is old-school, farm-family wisdom.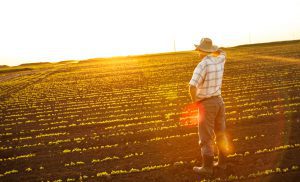 The message was about timing, and it's 100% applicable to you.
In farming, you plant a seed and expect it to start growing almost immediately.
In nature, a seed that falls to the earth can lie dormant for years and never take root. Then, one day, it starts to grow.
Why then? Maybe the soil was tilled and lifted the seed to the surface. Maybe the soil and climate conditions changed. Or maybe it was just the right time.
The seeds took root and started shooting toward the sky.
Stand with my dad and I as we look out across his field.
I have a memory of standing next to my dad behind our farmhouse. We were looking north over acres of short green sprouts of soybeans peaking up through fresh, rich soil. Dad is pointing out the unwelcome weeds* that had also sprouted, seemingly out of nowhere.
*A weed is just a plant that grows where the farmer didn't want it!
The farmer in him isn't so happy about the weeds, but the dreamer in him appreciates the mysteries of nature. Every year, new plants sprouted out of nowhere, and he marveled at that mystery.
Stand with me as we look across your field—of dreams.
You and I know you've got the seed of an audacious idea in you. A big dream. You're human, and that means you'll always wish or dream for something better. You've got at least one.
When will it take root? That's mostly up to you. A better harvest and a bigger thrill await you.
Permission to grow.
No one gave the "weed" seeds in my dad's bean field permission to grow. They just did.
News flash: No one is going to give you permission to start growing that big, audacious dream you have. You just begin. You give yourself permission.
What did the people you admire do?
Think of specific people who you admire for making a great impact in their world. One thing they have in common: They gave themselves permission to make an impact, even when their idea was just a weed to someone else.
You've already done great things. But this next big idea is probably bigger and scarier than any of them. Maybe you should just wait. Maybe someone else will start it.
Are you waiting for someone to give you the nod of approval or for another big project to end, first? Are you waiting until you figure out HOW you'll reach the goal?
Most leaders would have acted sooner.
Yes, timing and patience matter. Be wise.
But most leaders who reflect back on their work say they wished they'd moved sooner. What will you say?
Hail to the seed that can sprout when it's supposed to. This post is dedicated to the seed that sprouts because it's time to.
Is now your time?
It's your turn. You're among friends here. What dream seeds are you going to start to grow? Please share below in the comments.