He imitated his way to the top. And so can you.
Willson Contreras, the 26-year-old catcher for the Chicago Cubs will play in his first All-Star game tonight. That's one of the biggest honors in his profession. When he found out he'd made the team, he cried.
You probably would have too if you'd have worked that hard — especially if one of your idols had tried to hold you in place, telling you to "respect the ranks" as you started gaining ground.
Regardless, you can steal his path to all-star status starting today. And perhaps your success will threaten some of your idols, as well.
Playing in the All-Star game was a predictable outcome.
Contreras used a method that almost every superstar or uber performer in any field, including business, has used since the beginning of humanity.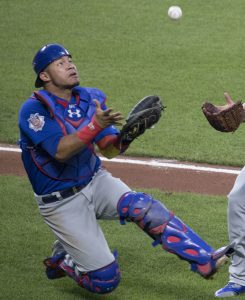 He knew where to focus.
It wasn't long ago that Contreras was just a pimply-faced teenager with a dream. Wisely, he found a secret weapon: his idols.
In particular, he idolized two big league catchers: Buster Posey (SF Giants) and Yadi Molina (St Louis Cardinals). When Contreras was a kid, Posey and Molina were two future Hall of Fame catchers at the peak of their game.
Contreras focused on them. He studied their moves in minute, painful detail. He practiced doing what they did as closely as he could, day after day after day.
He imitated them until he could make those moves as well as (or better than) they did.
How do I know this?
Because that's what every person who's having a huge impact will tell you he or she did early on.
Kobe Bryant studied Michael Jordan move by move.
Babe Ruth studied Shoeless Joe Jackson swing by swing.
Lin Manuel Miranda wrote down the lyrics of Stephen Sondheim and hip-hop artists word by word.
Warren Buffet read (and still reads) to capture the genius of great thinkers, idea by idea.
The Founding Fathers of the US researched the masters of history, thesis by thesis.
And over time each of them began to perform those things in their way. Not as a clone but as their own original expression.
There's even an advantage to birth order.
Did you know that the vast majority of Olympians fall toward the bottom of their family's birth order? As a younger, smaller, slower sibling, they had to work harder to keep with their older siblings. So they imitated them.
Imitation was a survival skill with Olympic-sized benefits. It made them better, faster.
In fact, it's not uncommon for a dedicated student to eventually outperform the people they'd been imitating.
Stealing talent is legal and encouraged.
Daniel Coyle, the author of The Talent Code (a must-read for anyone who wants to have a disproportionate impact), calls it "windshield" time—keeping the people you want to emulate right in front of you—in your windshield.
Contreras never became his heroes.
That wasn't his goal. Contreras would be a terrible Buster Posey. But by mastering Posey's moves, he became much better, himself.
His idol tried to smack him down.
Last year, Contreras admitted to studying Posey and Molina . . . and then added that he hopes to surpass them. The next day, Molina smacked him down on Twitter, essentially telling him to "respect the ranks." But it was too late. Contreras was on his way.
So today, ask yourself two questions:
Who might have put YOU on their windshield?
The likelihood is that they will eventually surpass you. You can choose to support their progress or smack them down. Played well, they could become a part of the legacy you leave.
Who are you putting on your windshield that you want to emulate?
Get clear about who it is, and start imitating them shamelessly. If you're dedicated to the task, it will make you a better version of yourself.
Want to make a meaningful impact? Put your idols on your windshield and get to work.