He wins championships by picking losers
The Chicago Cubs' success carries great news for you. What can you gain? More wins and a larger fan base.
But it might appear too risky. You decide.
The Cubs haven't won a World Series since 1908. This year, they're the favorites to win it all.
Full disclosure: I'm a lifelong Cubs fan, but this post is written for you, even if you don't like the Cubs or baseball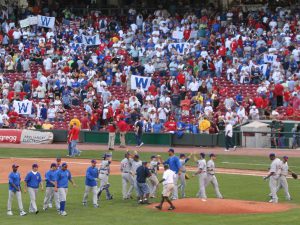 The Cubs have surged.
In the last few years, the Cubs have become a new team.
However, it's what happened long before any of these players were famous that makes them champions. It's the stuff no one likes to talk about.
But first, what's happening behind the curtain?
The Cubs players and Coach Joe Maddon win the games on the field. But the wizard behind the scenes is Theo Epstein, their President of Baseball Operations. One of his critical roles is finding the greatest talent for Coach Maddon to work with.
He's REALLY good at finding talent.
Before he joined the Cubs, Epstein helped rebuild the Boston Red Sox. They hadn't won a World Series since 1918, but the teams Epstein built won in 2004, 2007, and 2013.
Hmmmm. Maybe this guy is worth paying attention to.
He looks at talent with a different eye.
Epstein considers the important sabermetrics (popularized in the book/movie Money Ball) for each player. But he lives by a different motto that's been summarized as "Scouting the person more than the player."
In particular, Epstein wants to know what adversity the players have faced and how they overcame it — on and off the field.
Here's the sobering reality of life.
Everybody is going to lose big, sometimes. But who among us has built the muscle of resilience to come back when they just got thrown to the pavement?
Others might be surprised by the outcome of Tuesday night's game, but the players were not. The Cubs surged to overcome a 3-run deficit in the final inning to defeat the Giants. Ridiculous!
It's the biggest comeback in a final postseason game in major league history. THAT'S overcoming adversity, and every player on the field is an expert in it because of their past ugly struggles.
Epstein wants players who faced adversity for a reason.
In fact, the team draws on their familiarity with past defeat for strength. After every game, the whole team shouts: "We never quit! We never quit!" almost like it's a cheer.
They're reinforcing their resilience muscles for the moments when they need them, like Tuesday night.
So what's the lesson for you?
Just like world-class athletes, the adversity YOU overcame early in life really does make you stronger today.
But it's this messy past that most leaders want to sweep under the rug and hide from the rest of the world.
As Esptein so wisely figured out, it's those who lost and recovered that are most likely to win under pressure.
This messiness even makes people more loyal to them.
We love those scruffy mutts in baseball caps even more because they've failed big — just like we have. We can see ourselves in them.
Don't fear the faux risk.
Many leaders believe their failures and missteps make them look unattractive. Too risky to share. So they bury them, and present their perfect image, instead.
You know what we call the leaders who do that?
Boring. Unrelatable. Inauthentic. Untrustworthy.
Who wants to talk about how they lost?
You probably don't. But the huge screw-ups you overcame didn't just make you stronger. Being honest enough to talk about it openly (and wisely) also makes you a leader that people can connect with, someone they want to follow.
So, what's the stuff in your history that you wish no one knew about you? How did you crash and burn? How did you publicly embarrass yourself? And how are you stronger and wiser because of it?
Tell me about that, and I'll follow you anywhere.
Please comment below: Tell us about the scuffed up leaders who you'd follow any time, anywhere.
Save
Save
Save